In 2017 Microsoft has made some major improvements to their Managed authentication model to make it a viable competitor to the cumbersome Federated model. As a refresher, Federated identity requires Microsoft ADFS infrastructure deployed (along with ADConnect for AD Sync), and to make it highly available entails multiple servers deployed in multiple datacenters/Azure, global load balancing of the internet-facing URL with Azure Traffic Manager – dependencies on your private cloud to authenticate to the public cloud. Managed identity still uses ADConnect for AD Sync but the biggest drawback is that you didn't get the "seamless" single signon (SSO) experience that ADFS provides, only "same sign on" (SSO) and needing to reenter your credentials.
Microsoft has recently added Seamless Single Signon and Pass-Thru Authentication (as an alternative to password-hash synchronization in high security environments, but out of scope for this article) to ADConnect, in efforts to further eliminate the ADFS dependencies previously mentioned, and with this I've been working a large number of projects in planning / executing a move away from ADFS.
What I've found is that it's always been a grey area on how long this process takes, given most of the documentation calls for using the Convert-MSOLDomainToStandard cmdlet and dealing with the password conversion process. If you follow these steps there's an easier way to do it.
Step 1 – Check Local Active Directory
The first step is ensuring that you have local AD setup and able to support Password Sync. One of the Microsoft Premier Field Engineers (PFE) wrote a great blog on this in 2016:
https://blogs.technet.microsoft.com/askpfeplat/2016/12/19/convert-a-federated-domain-in-azure-ad-to-managed-and-use-password-sync-step-by-step/
"First, ensure your Azure AD Connect Sync ID has "Replicate Directory Changes" and "Replicate Directory Changes All" permissions in AD (For Password Sync to function properly). If you did not set this up initially, you will have to do this prior to configuring"
This can be done thru Active Directory Users & Computers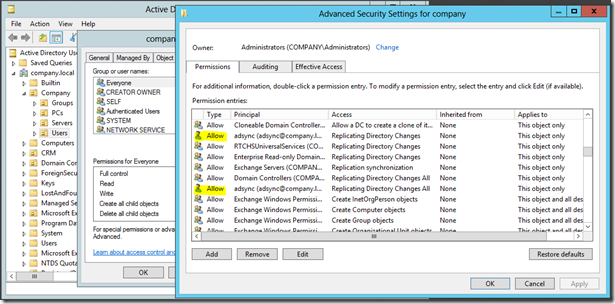 Continue reading "Quickly Change Authentication models in Azure AD / Office 365" »