So I'm deep in the throws of an Office 365 project, and after going thru the process of setting up Exchange Hybrid with on-premise ADFS, testing mailflow, and performing a mailbox move, the next step was working on Retention Policies to migrate email older than 1 year from their Primary Mailbox with 50gb storage to their Online Archive with 100GB of storage.
I tried to enable the archive from the Exchange Online portal as well as thru Exchange online Powershell but didn't have any luck. With Powershell I was getting the message:
"Can't enable the archive for user because their primary mailbox is located on an on-premises server. To enable a cloud-based archive mailbox for this user, you must use your on-premises Exchange admin center or Exchange Management Shell."

I found this particularly odd because, well, the mailbox WASN'T on-premises any more nor was there any kind of archive mailbox enabled for my test acount.

After digging for hours (which is typically the catalyst for most of these posts) I came across a solution through the Office 365 community which detailed out adjusting the source AD user's object on-premises attributes in order for the Archive to come online. Again, since this was a hybrid identity design, on-premises Active Directory was the source of truth and directory synchronization was in place to populate the objects in Azure AD / Office 365.
First, we need to modify the msExchArchiveName attribute to reflect the archive name (this can be whatever we want), as well as modify the msExchRemoteRecipientType to 3.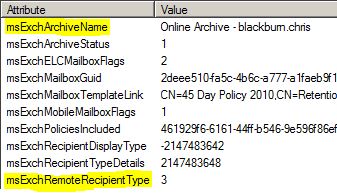 We'll leave the msExchRecipientDisplayType and msExchRecipientTypeDetails as is – you can find what these means in a post I made here.
Once completed, force a Dirsync

Once complete, we run the Exchange Online powershell to see that the Get-Mailbox command to see the archive has been created

And that Outlook shows our online archive (with the name that we provided)