Recently our team at Concurrency had a meeting with one of the Program Managers at Microsoft for Office 365 Groups and this spurred a conversation internally about how the team is helping customers use Office 365 Groups. After spending hours in my own lab developing training material around the Enterprise Mobility Suite as well as using Office 365 Groups, a new twist to an age-old problem of collaboration and management appeared that has seemingly haunted teams and departments. Using Microsoft's approach of self service and some new (well, not SO new, maybe 12-18 months old) technology solves this dilemma with the modern tool of Office 365 groups.
So let's dive into. We have a test customer that currently has Office 365 E3 CALs for their users. They just implemented Office 365, and in an effort to improve productivity they have an Accounting department which their own Office 365 group. Remember for now Office 365 Group are purely "In Cloud" – there will be a conversion process eventually to convert distribution groups to Office 365 groups (see the Roadmap – https://fasttrack.microsoft.com/roadmap).

Office 365 Groups is a tool for addressing collaboration in our modern age – messages via Outlook and Exchange Online, real-time team chat via Skype for Business Online, and document collaboration via SharePoint Online. The best experience right now out there is via OWA in my opinion.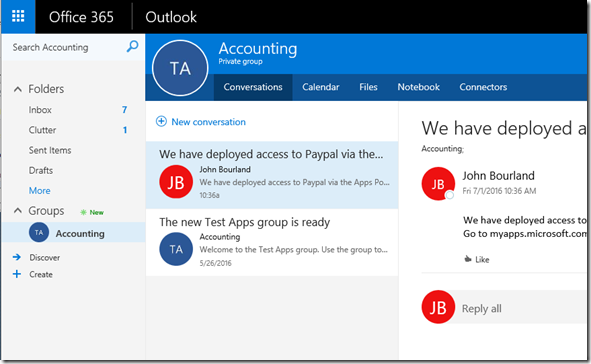 Continue reading "Office 365 Groups & My Apps Panel: A New Twist to an Old Problem" »